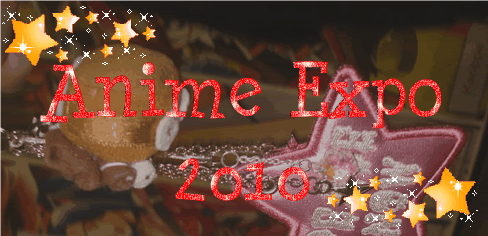 it was pretty fun~ I'm happy I got to see a lot of you again and make new friends :DDD
Day I: Lizzie
I haven't cosplayed in a long long long time and I can't pose at all buuuut it was okay. People glared at me a lot. Or I thought they were, people kept telling me they were just trying to remember my costume (cuz it's only worn very briefly by the character), but I did not realize so many people had such angry looking thinking faces .___________.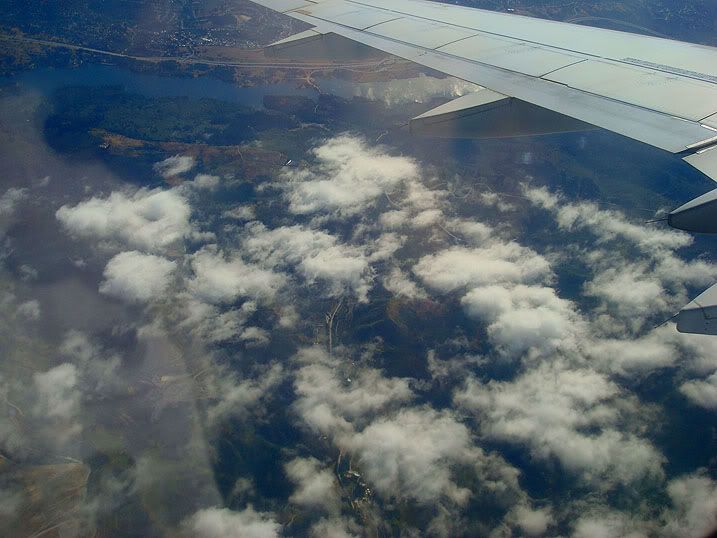 Somewhere between SF and LA. I didn't sleep this morning DDDDDDDD: And then Rina and I were stranded on different sides of the airport but we met up on the hotel shuttle, luckily.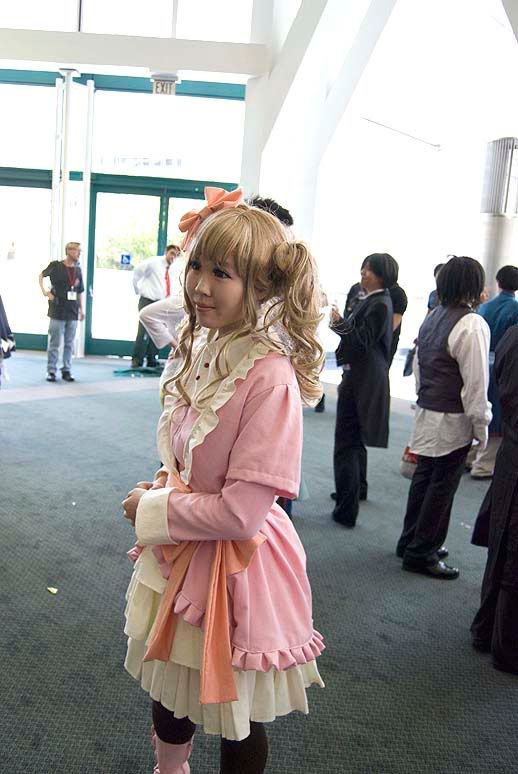 Hi I'm Lizzie and I can't pose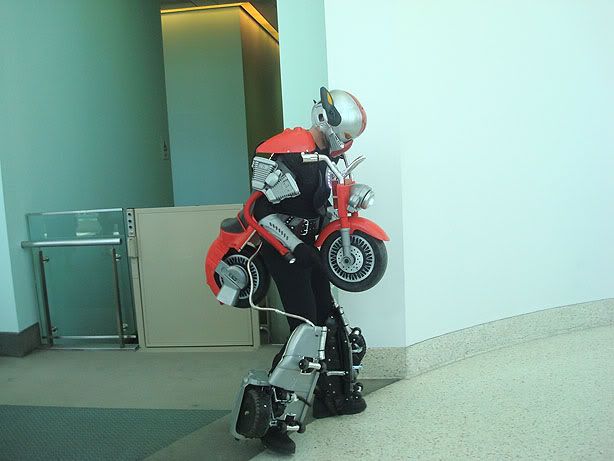 this guy could turn INTO A BIKE. AND THEN DRIVE AROUND. DDD: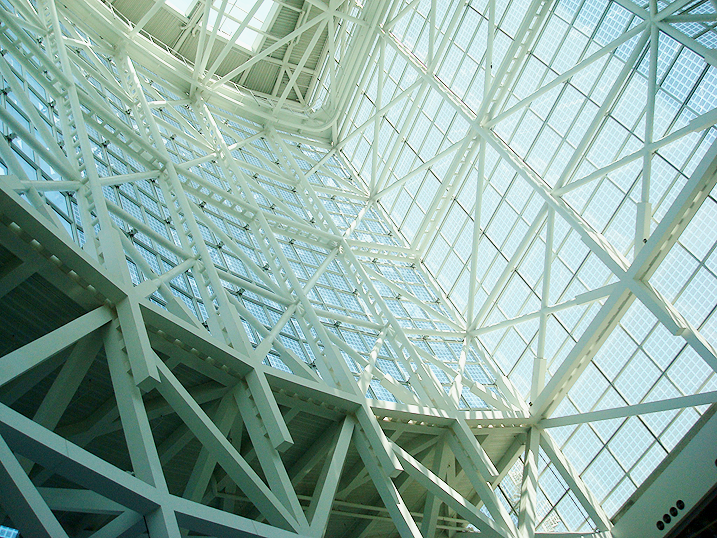 the LACC is pretty, when you ignore that the layout's pretty bad.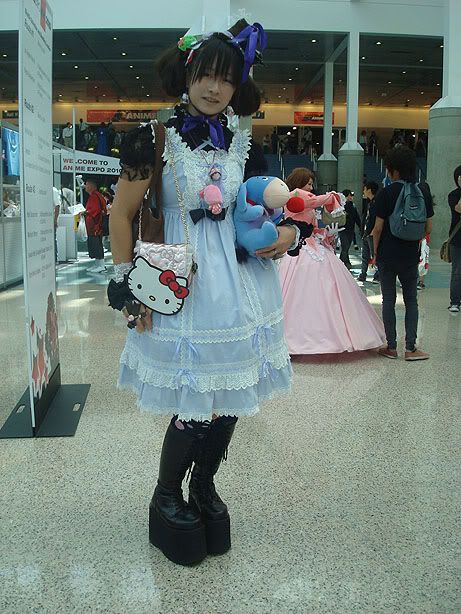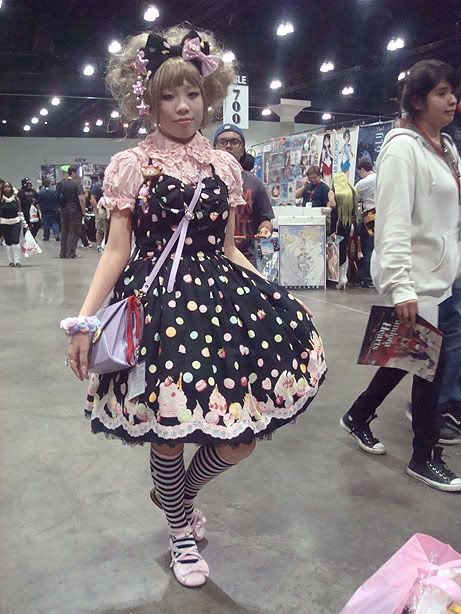 hai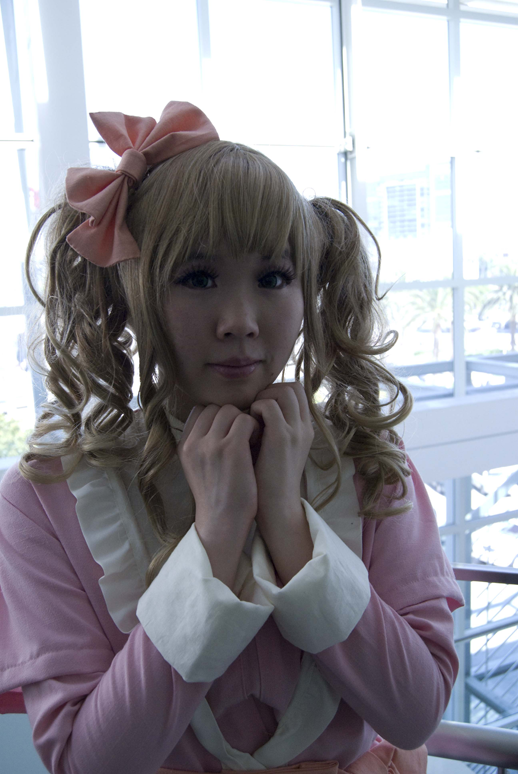 hello there camera I'm clawing at my throat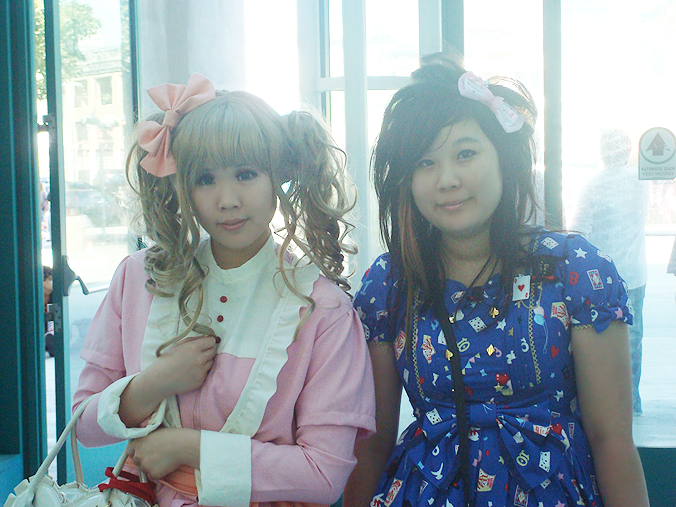 stephy!! :DDDDDDDDDD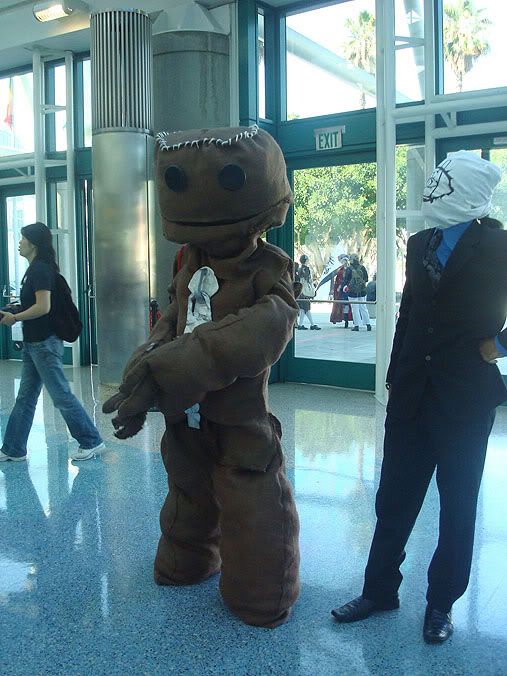 sack person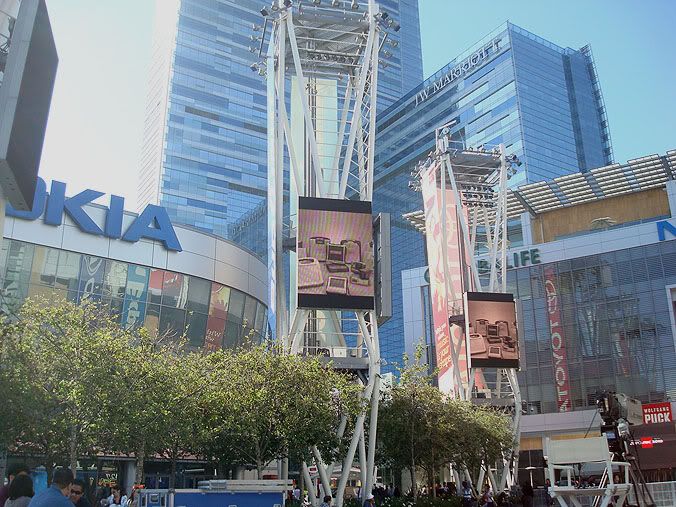 this place looks like downtown SF O:
Stephy and I ran back and forth between here and the LACC a few times waiting for the Yoshiki concert.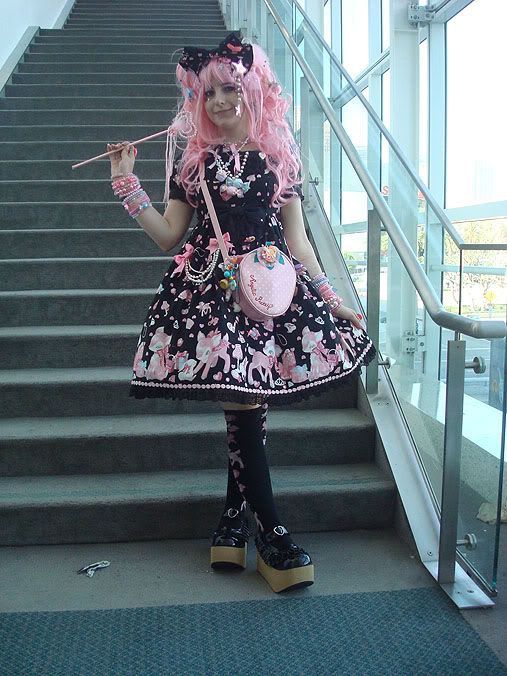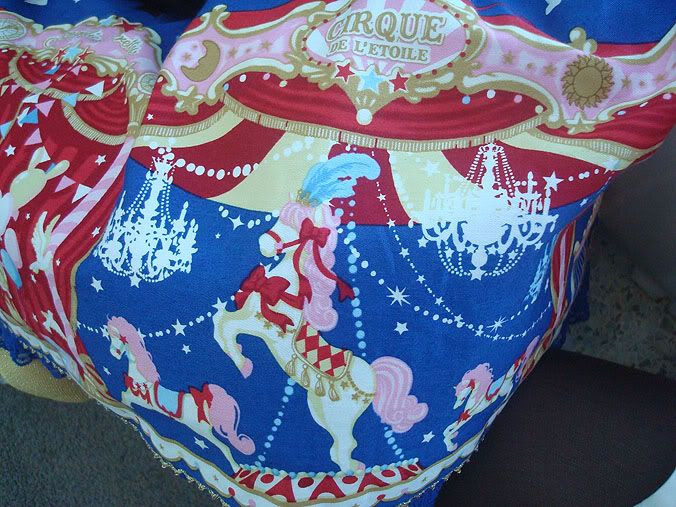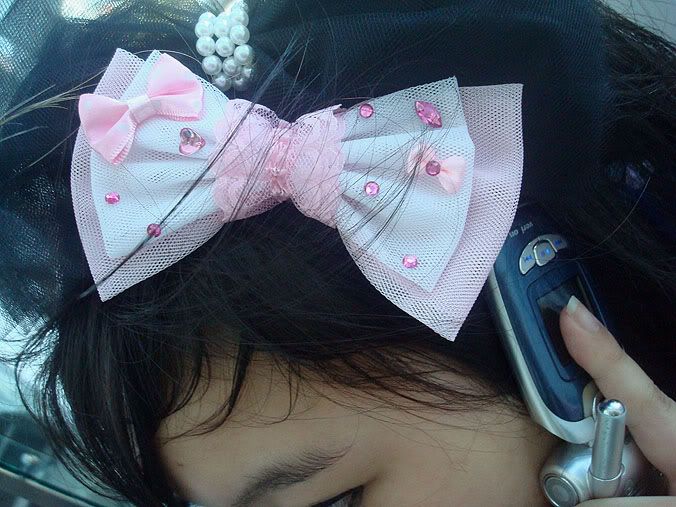 I like to take creeper photos of stephy when she's on her phone :DDDDDDDDDDDDDb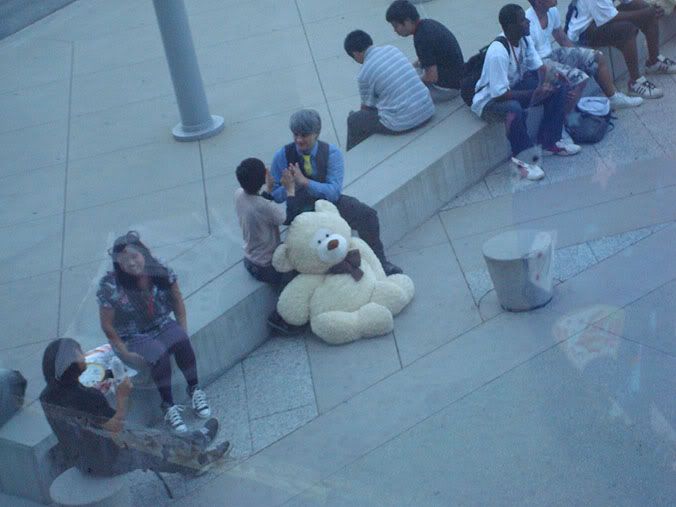 gigantic bear I spotted
After Stephy got in line for the concert for good, I went back with my cosplay group and we waited for Grell!cosplayer to get her AKB48 autographs.
And we called Ciel!cosplayer. It went something like this:
"Hey, Ciel!cosplayer, what're you wearing?"
"CIEL'S PAJAMAS."
"..."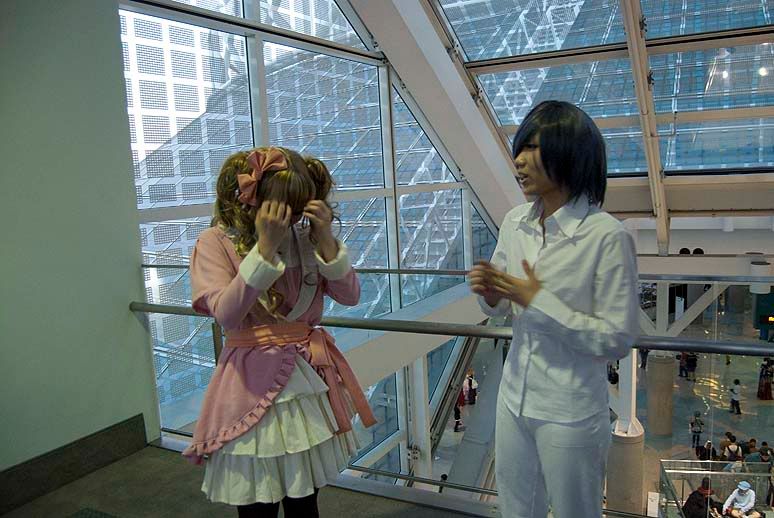 Ciel's pajamas.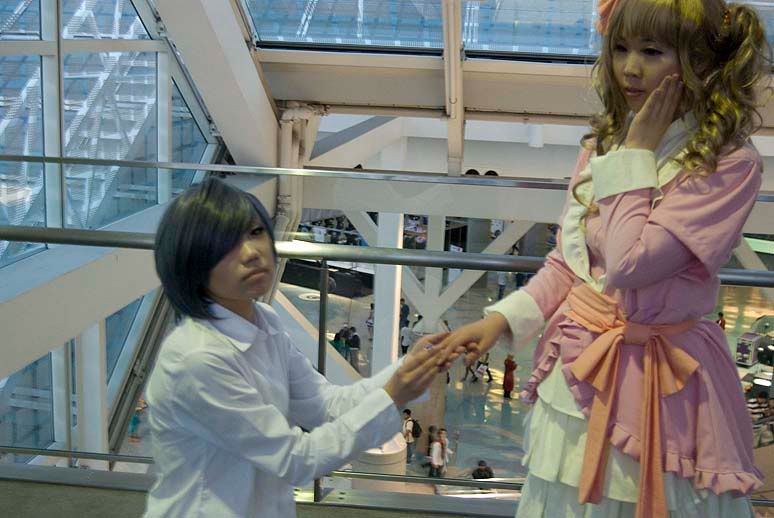 then we got married.
(there is a ring you just can't see it)
Finally the autograph line started moving, when the staff announces-- we don't care that you've been lined up for hours! No autographs today! They're tomorrow instead. And no you don't get tickets that prove you've been waiting forever that will boost you to the front of the line, you gotta wait alllll over again as if you hadn't waited at all today.
If this were for a band I actually liked...... >O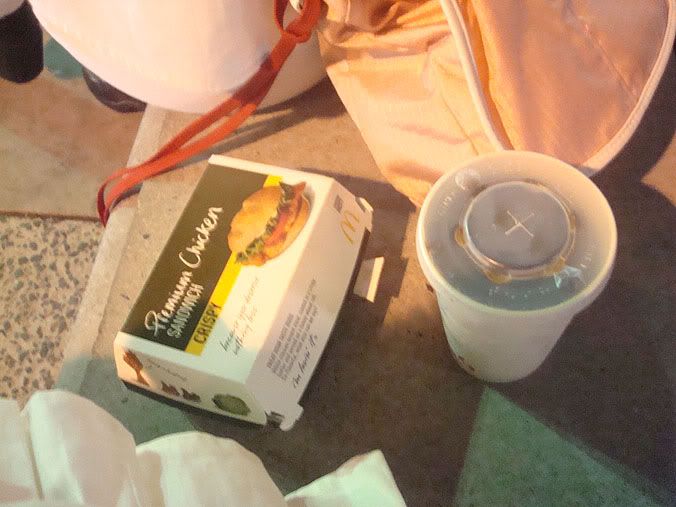 this is what we all had for dinner because everything was closed ;~;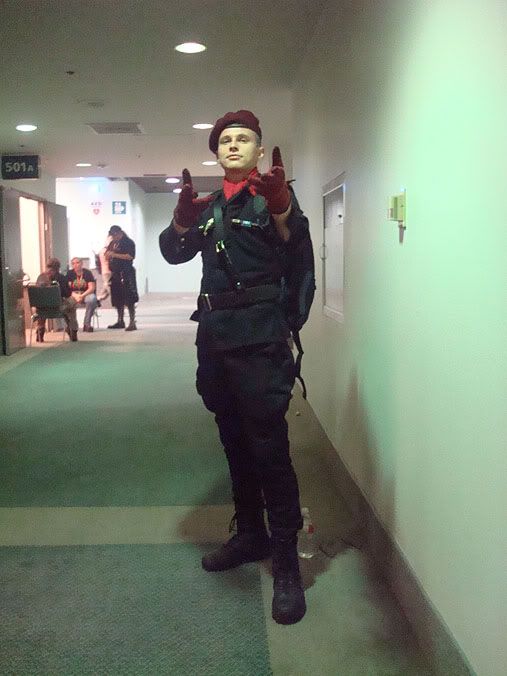 We went back inside to see the midnight tea, this guy was outside!
Then Rina and Dai and Yuki took some pictures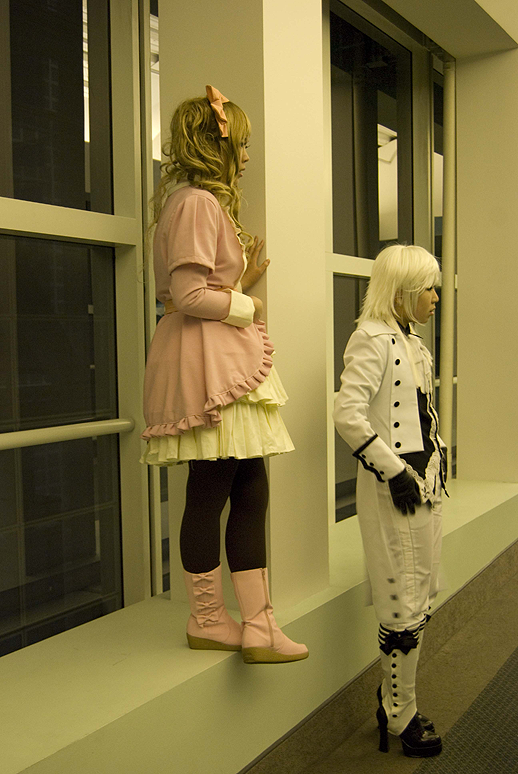 me and dai~ she's such an amazing seamstress *_*
Day II: I've always wanted this to happen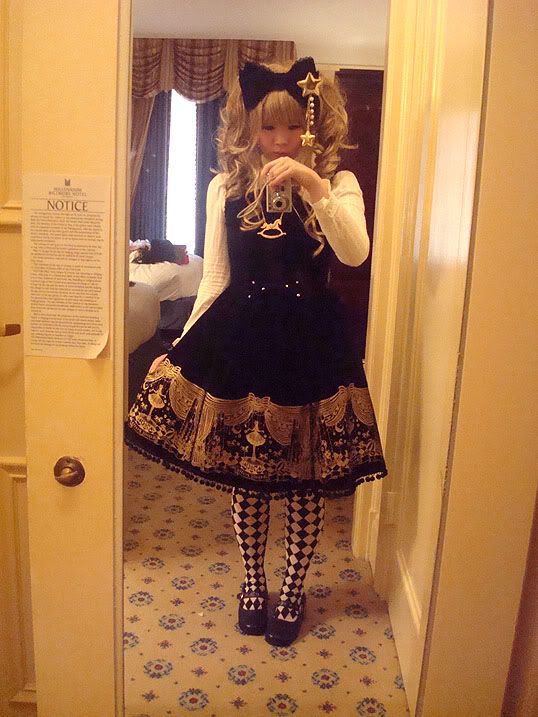 I look tall for once!!!!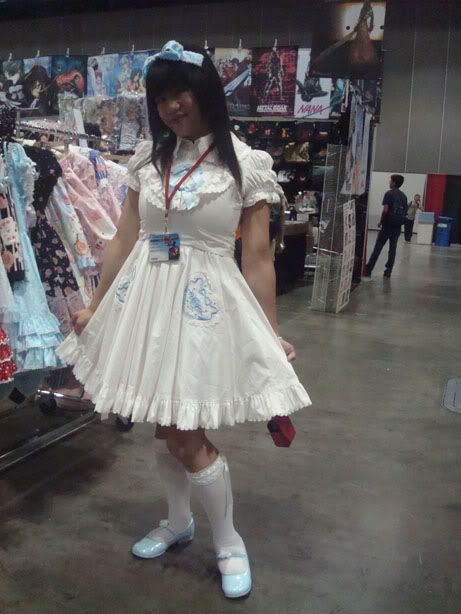 Lynda~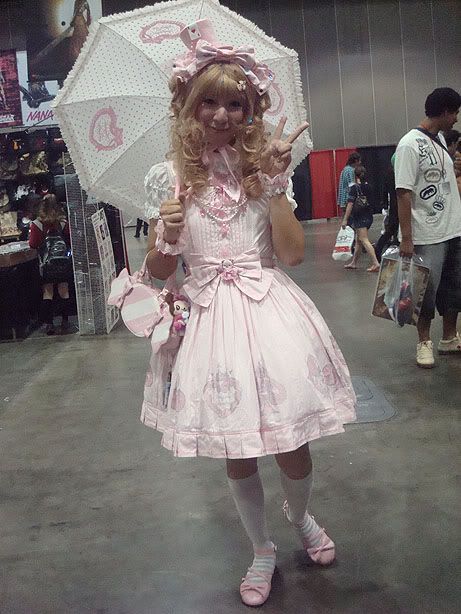 Andrew~
*heart attack*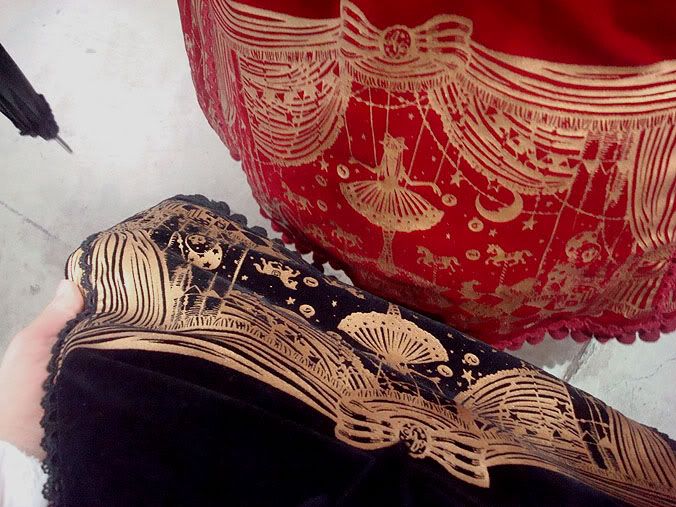 :DDDDDDDDDDD 2/4!!!!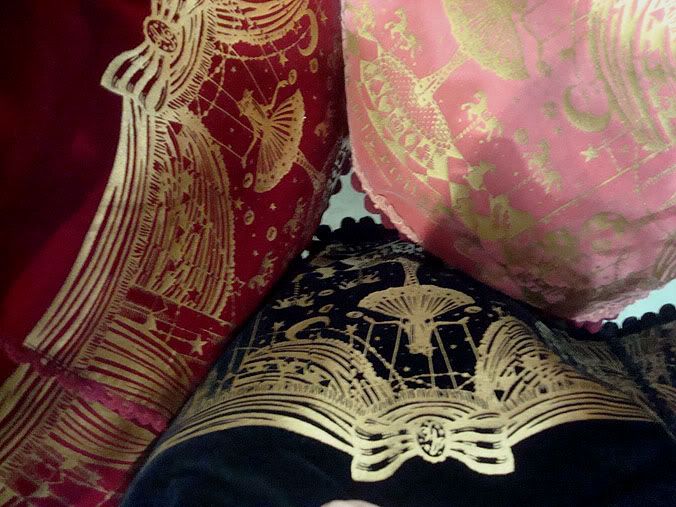 Then Sandy showed up and we had 3/4~
4/4!!!!!!!!!!!!!!!!!!!!!!!!!!!!!!!!!!!!!
I WAS SO HAPPY LOL ;~~~~;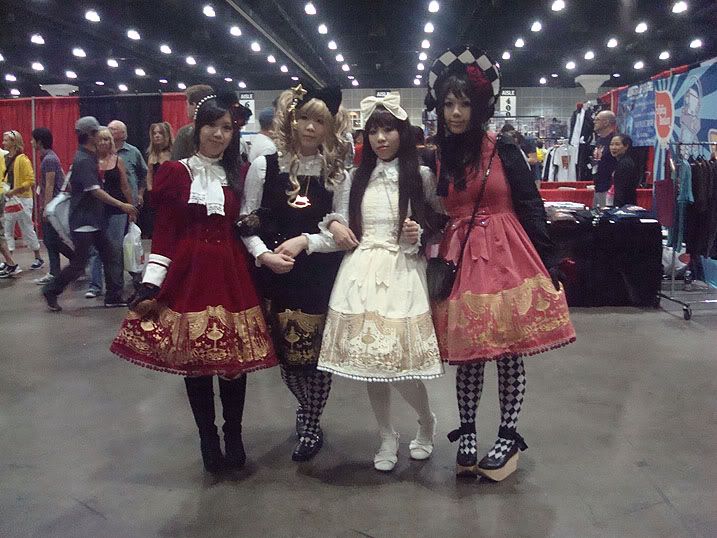 Yeahh :D
After this we ran off and did our own things ._.
I waited in line with Grell!cosplayer to get AKB48 autographs again. And after 10 minutes everything was great but then staff goes ONLY 35 MINUTES LEFT. I was pretty sure it was supposed to be an hour long event? Then they were really rude kicking all the fans out of line. -_-
Kimisa and I bought Peace Now cellphone straps, at least. We asked the staff to help us pick out colors that would match our phones xD
They're super squishy!
Kim!
Baby loli really liked my phone!!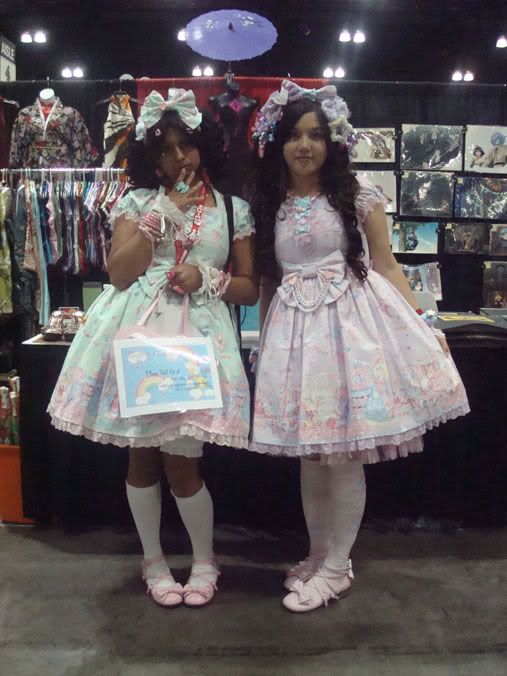 some cuties
pretty~
then I hung around kammie's booth 8D
So cool~~~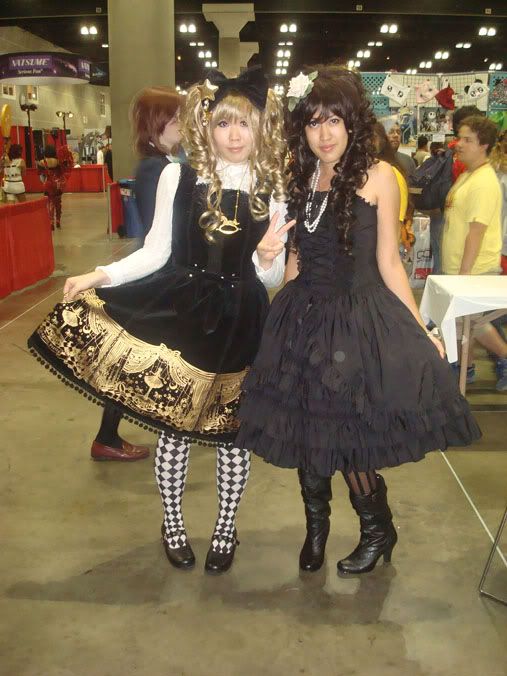 gothic buddies XD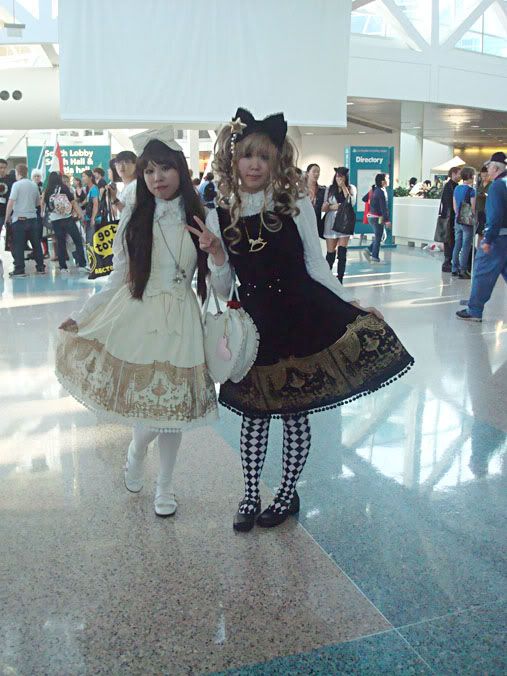 I found white!puppet circus again :D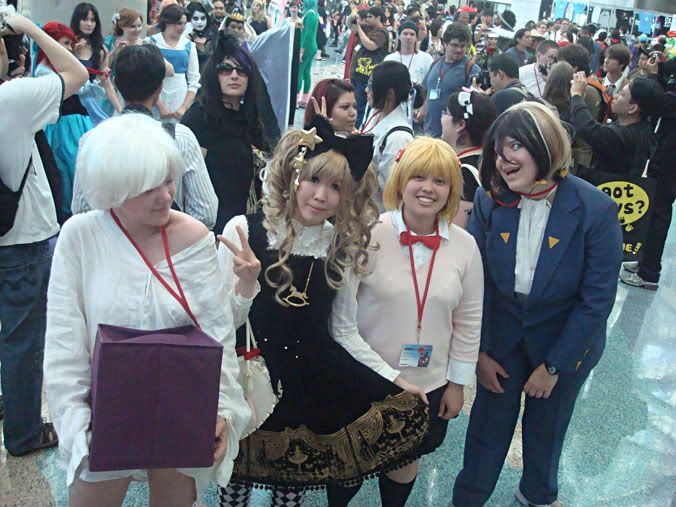 neuro cosplayers!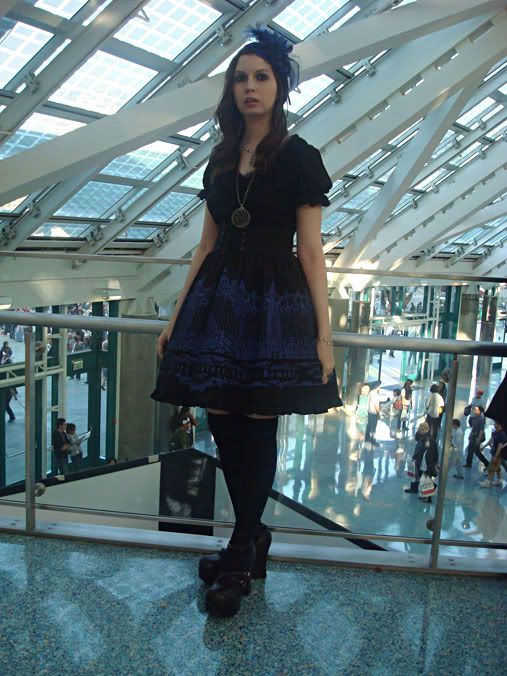 pretty gothic person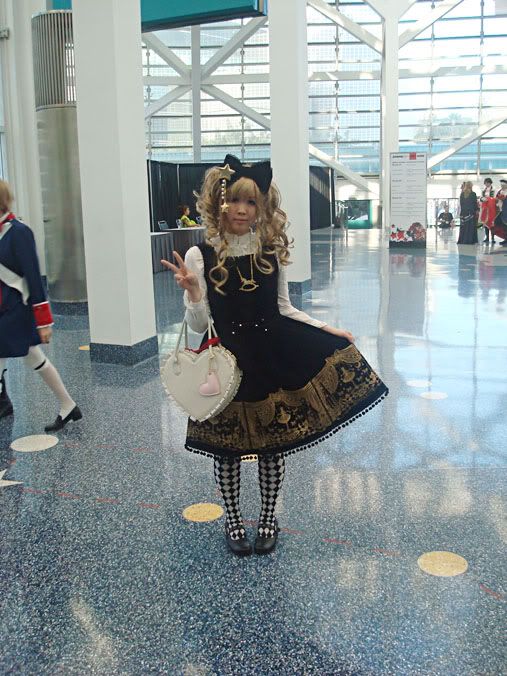 some short kid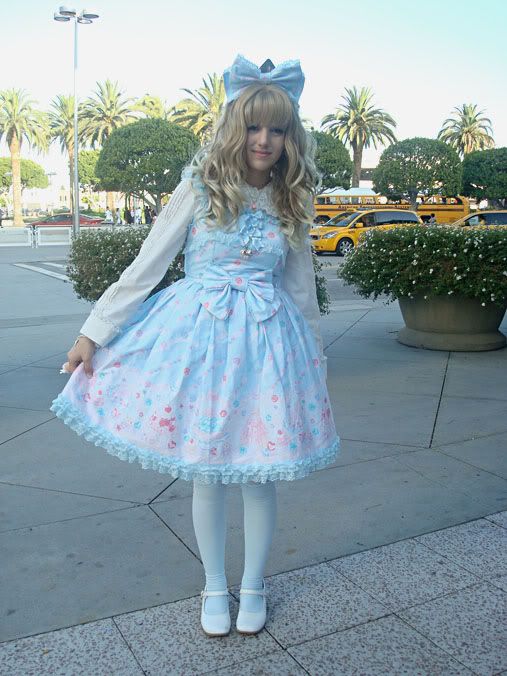 SHE IS SOOOOOOOO PRETTY ;~;'''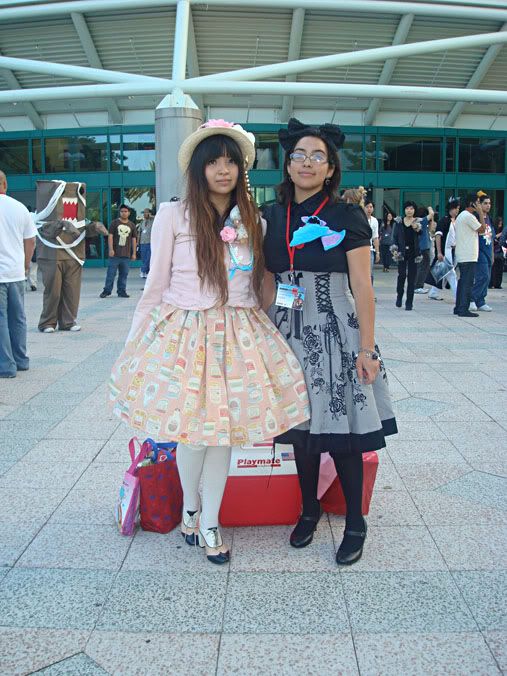 I think I found a lolita meetup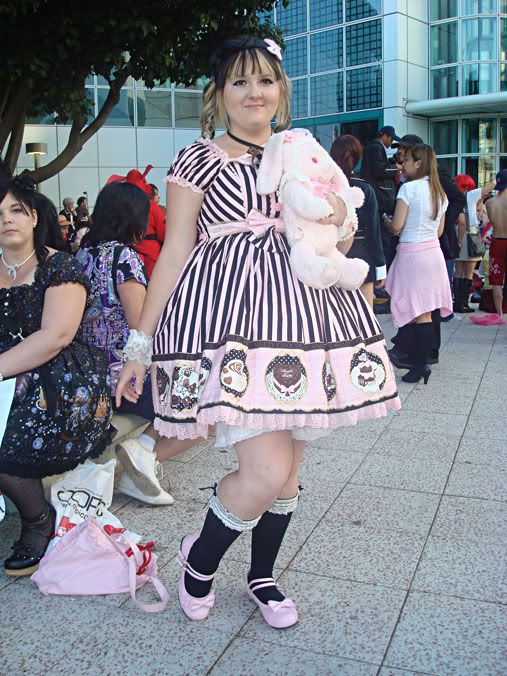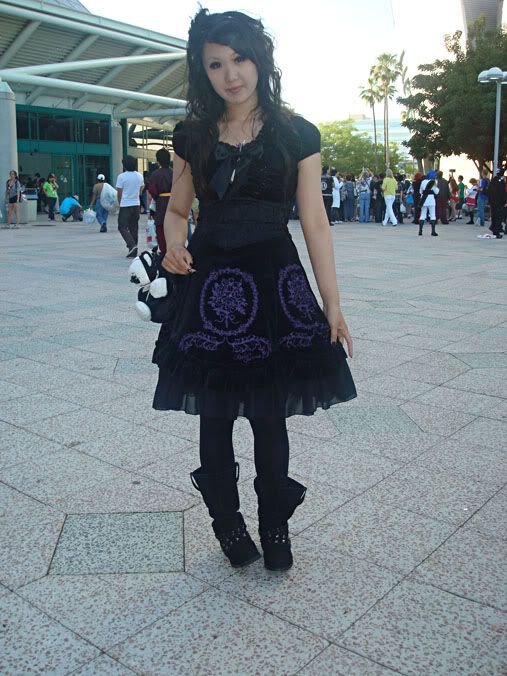 pretty gloria~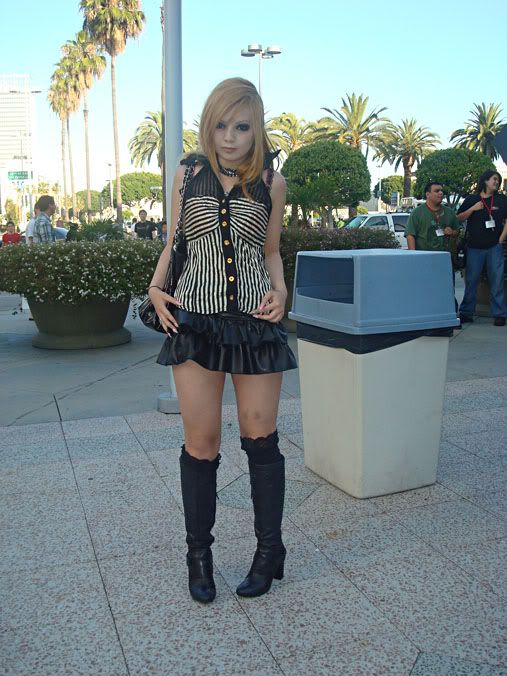 gloria's gorgeous friend *Q*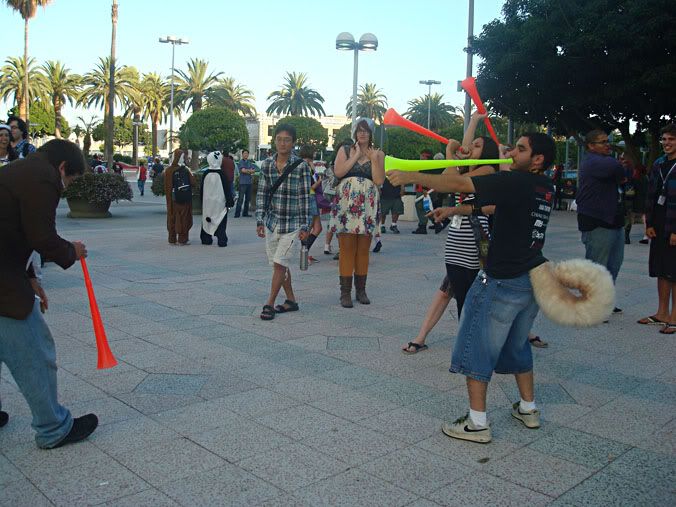 vuvuzula battle .___.
then we went to a zone00 photoshoot for rina and yuki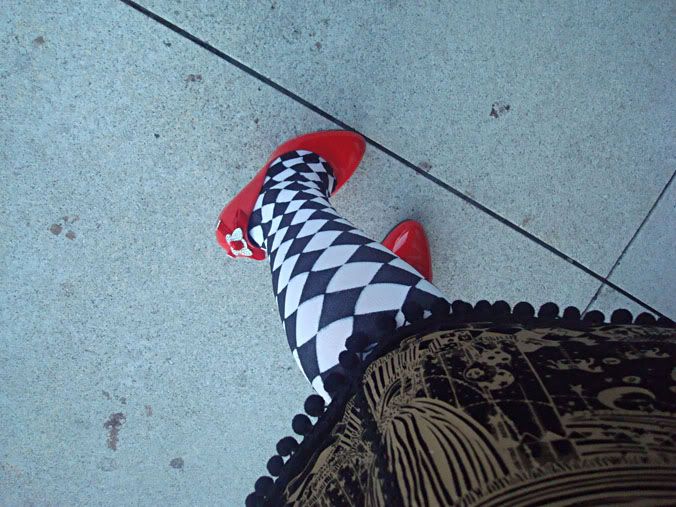 I stole yuki's stripper heels. They hurt a lot DX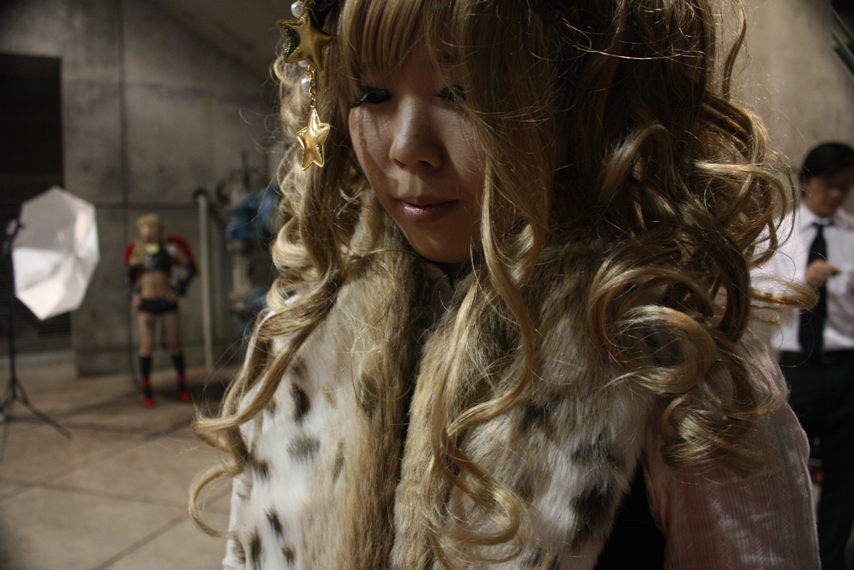 I also stole Rina's stole
see what I did?
:DDDDDDDD
Yuki's in the background. I really like the lighting umbrella, it makes it look so much more professional than it really was aka some kids gather by a busy street and take pictures of each other wearing funny costumes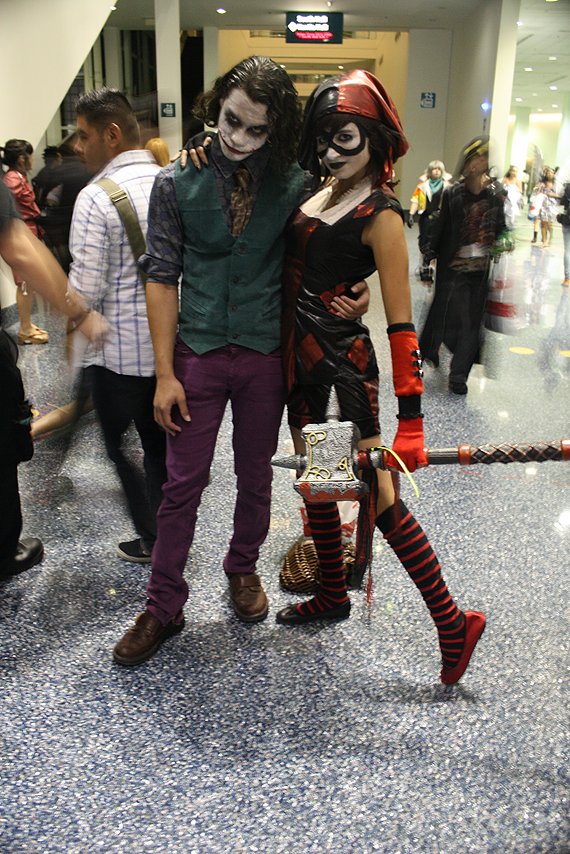 best joker cosplayer I've ever seen *_*!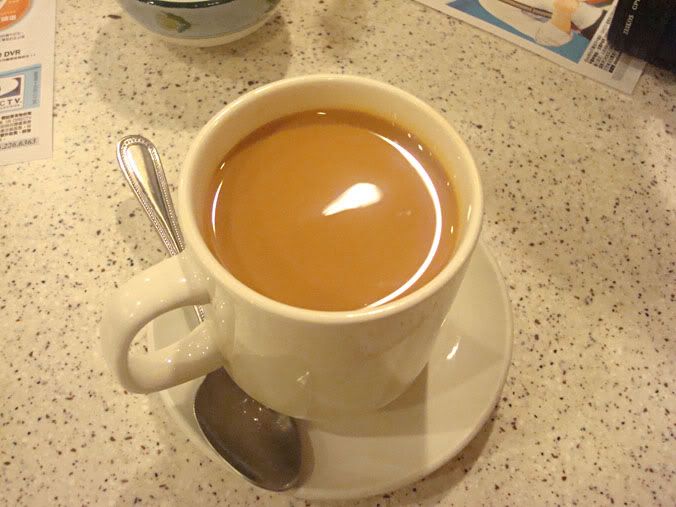 Then we went to get dinner :D
This is the best rose tea ever! It was really thick and sweet >.<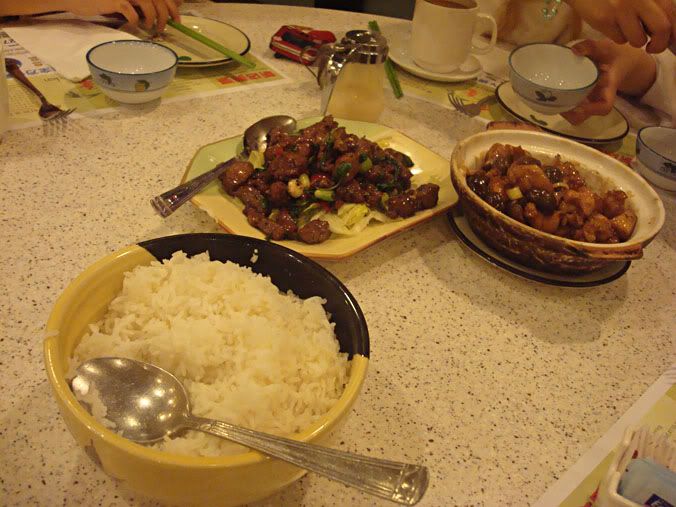 Day III: nothing particularly eventful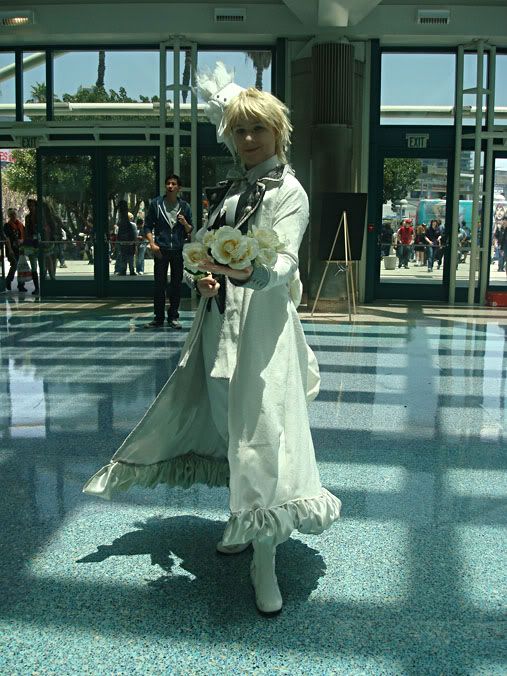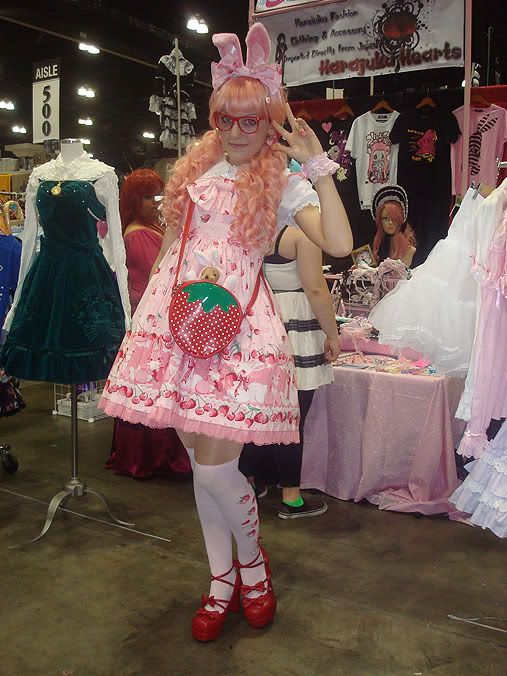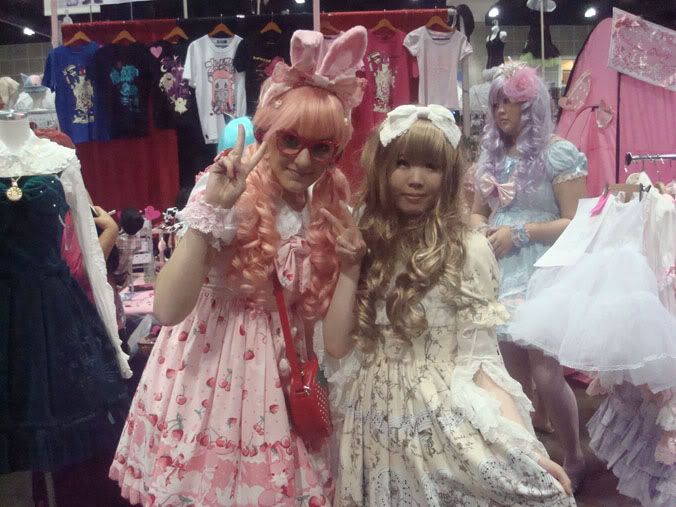 She gave me bubbles :D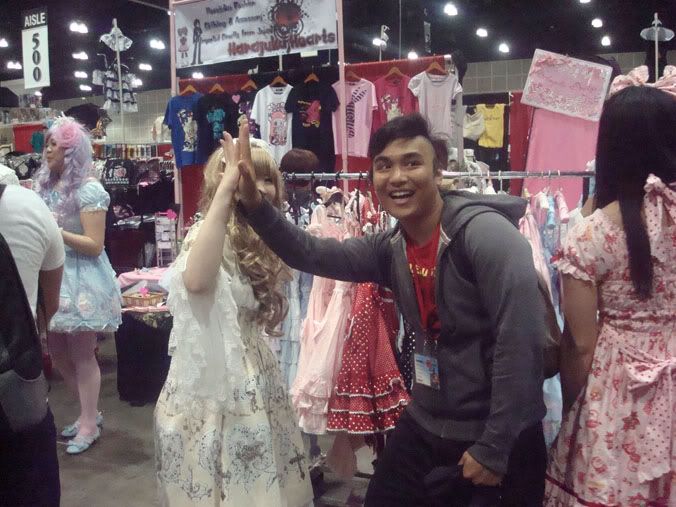 "HEY CAN I TAKE A PICTURE WITH YOU. HIGH FIVE ME."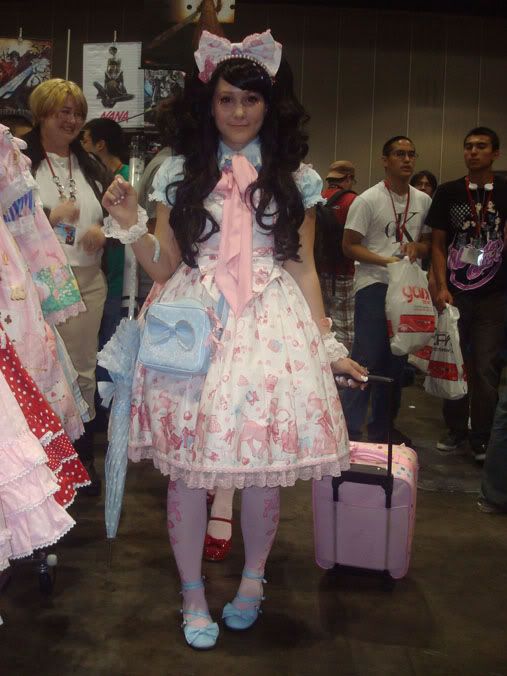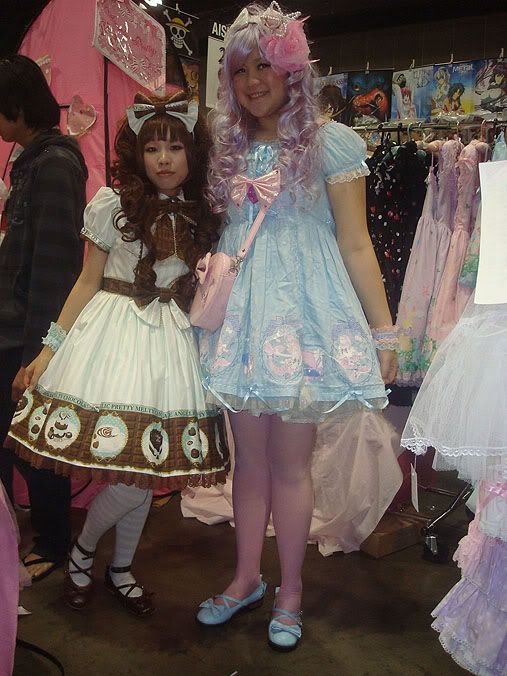 crystal and cass!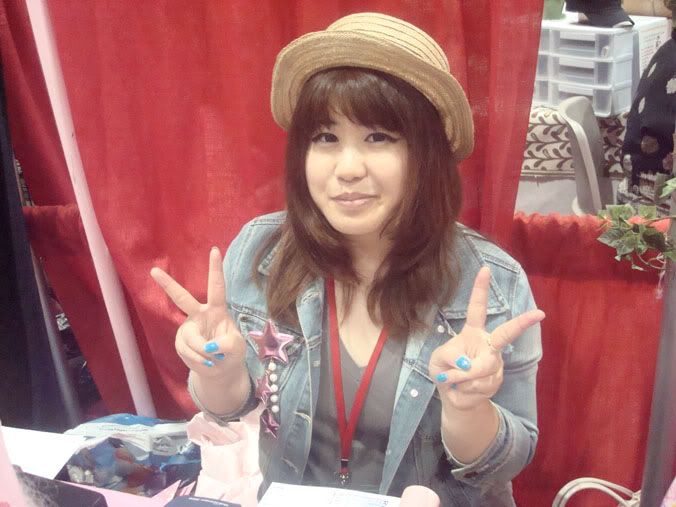 Trangy trang :D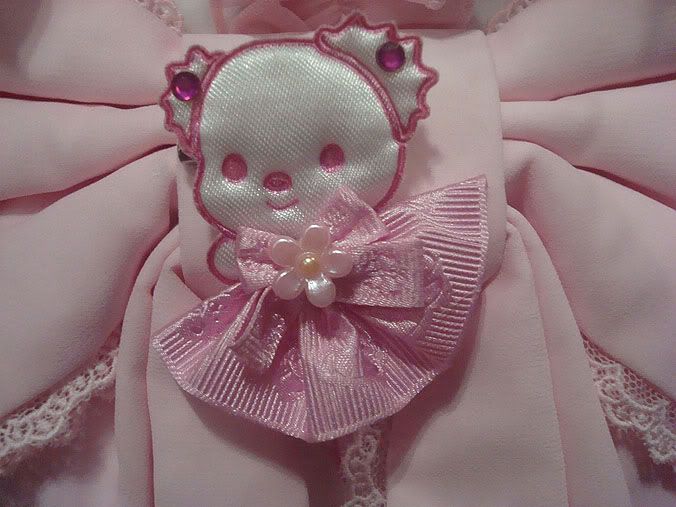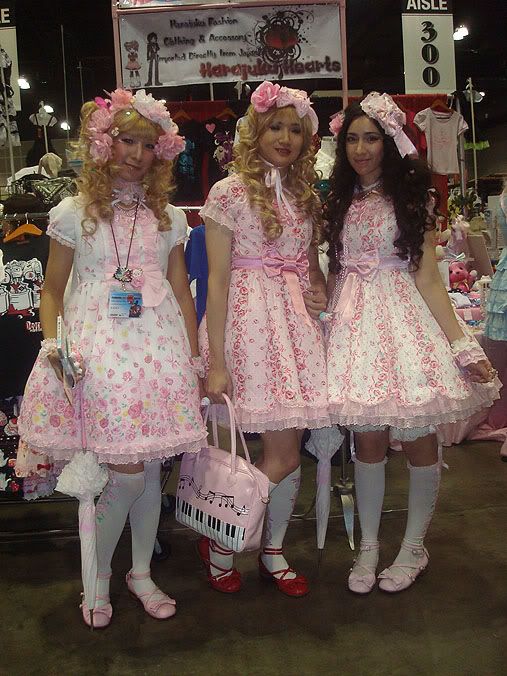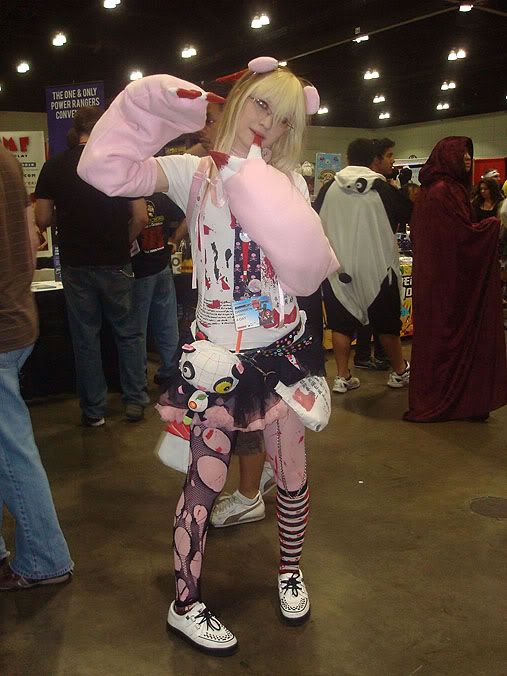 cuuuute
Then I went to bother kammie&co some more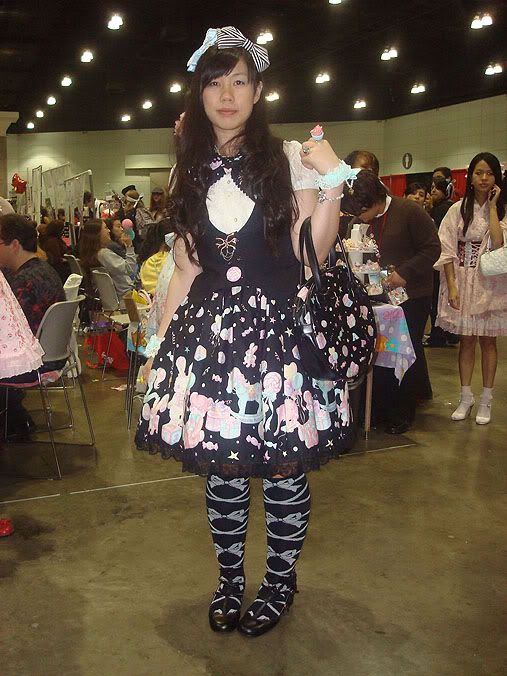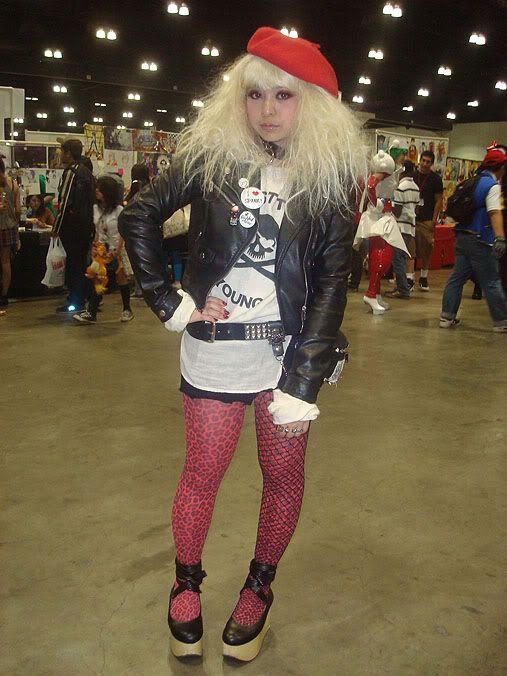 Julie had the prettiest makeup ; 3 ;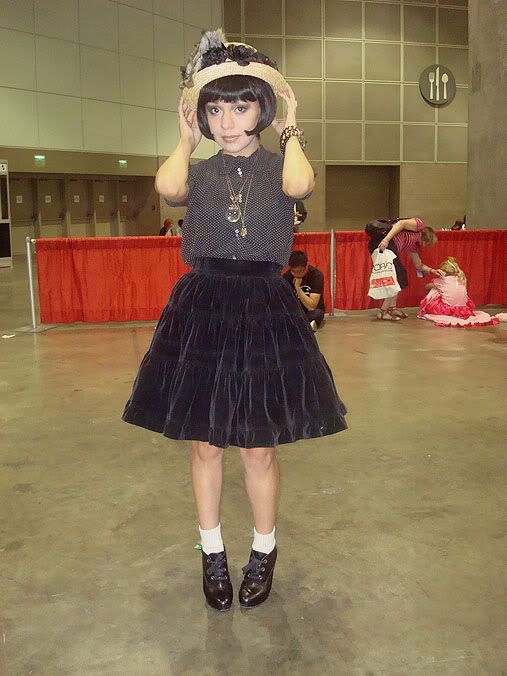 ariri
wait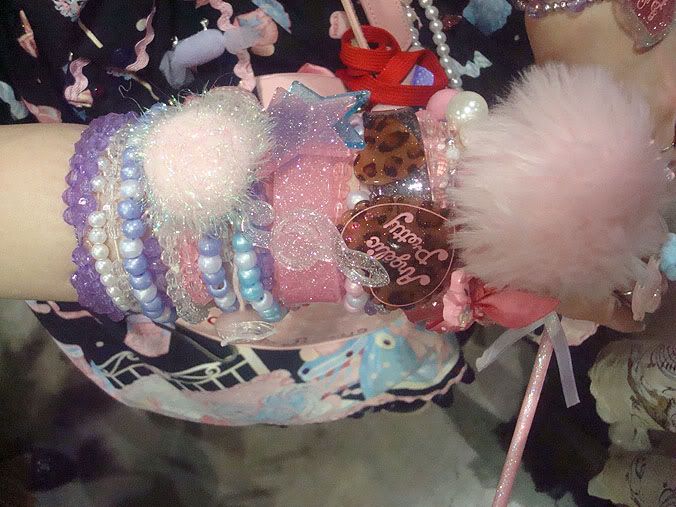 wait for it
almost there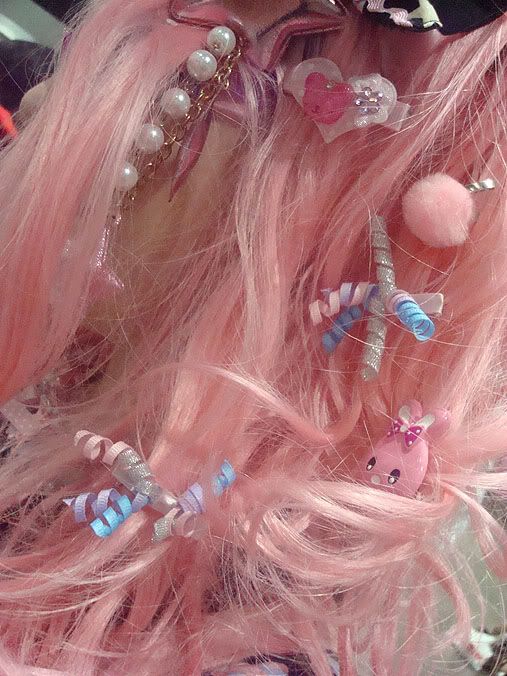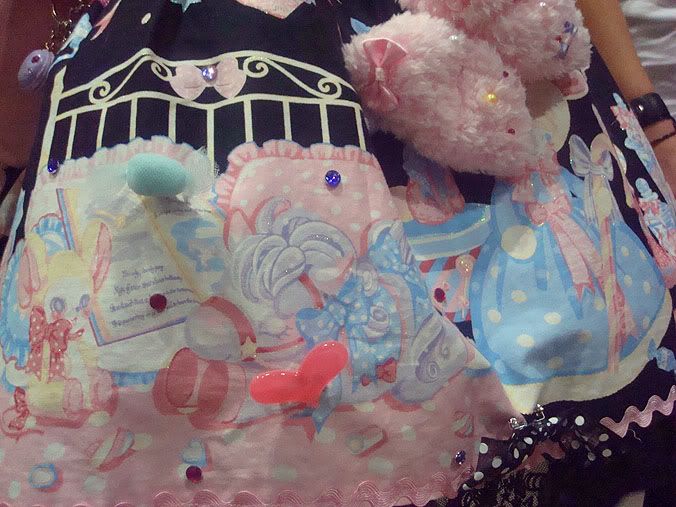 just a liiiittle more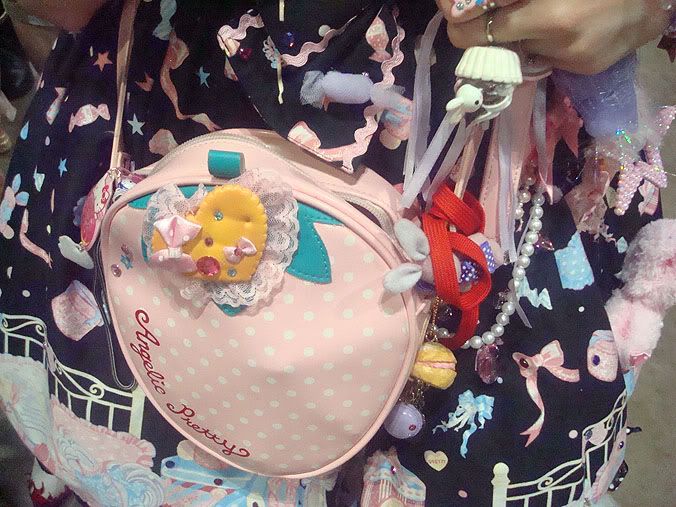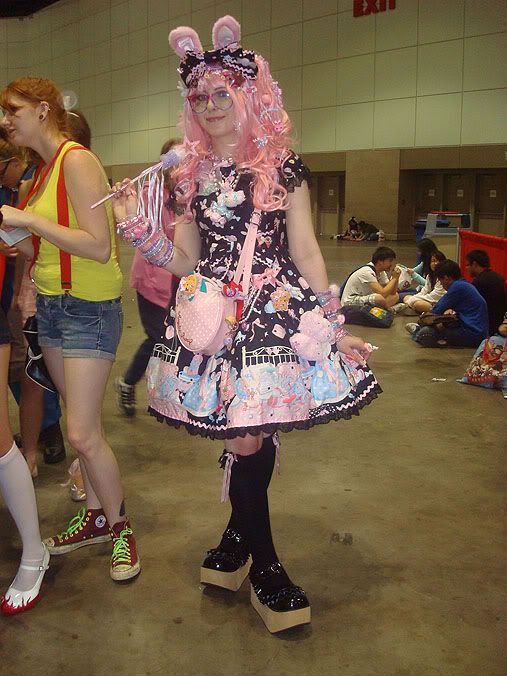 *_______________________________________
_____*
SO AMAZINGGGGG
and then I was so amazed I had to leave and bother lynda&co again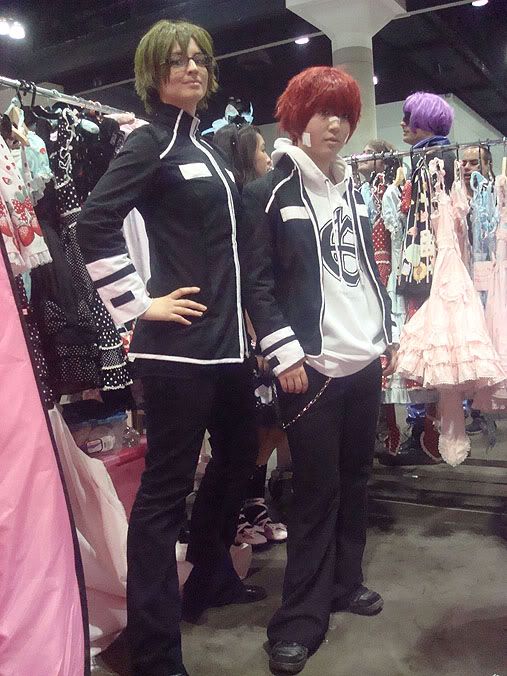 new friends :D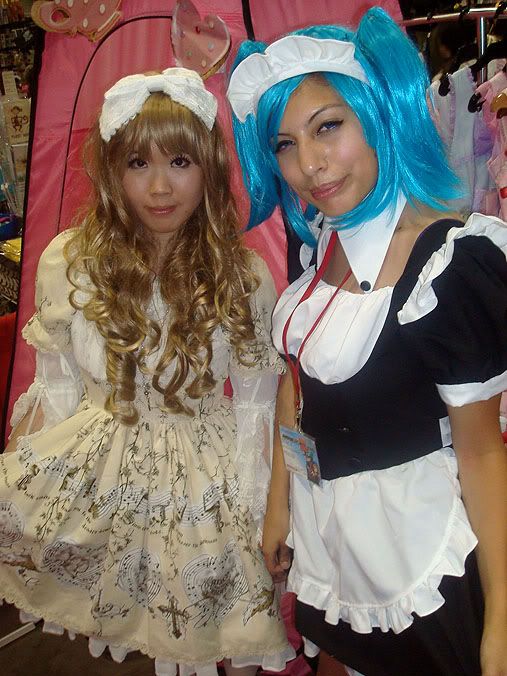 I met my really old friend Lauren >v< I haven't seen her in years!!!!!!!!! I'm surprised she remembers me.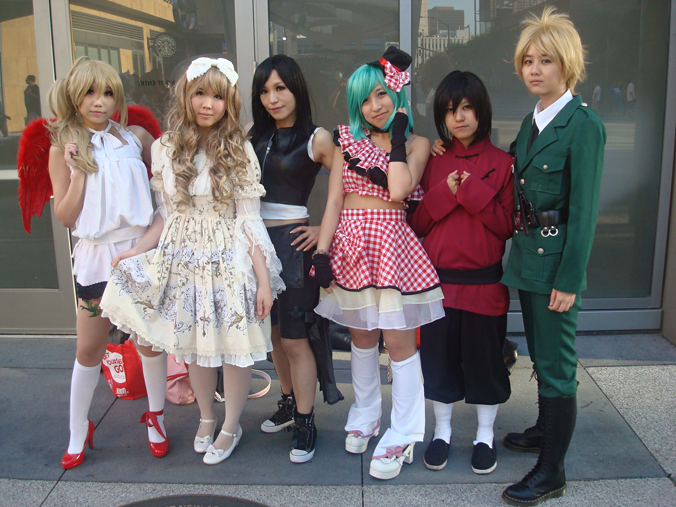 waiting to get into the masquerade to see peter~ (he won 2nd place :D!!!) Note the height of the red stripper heels DX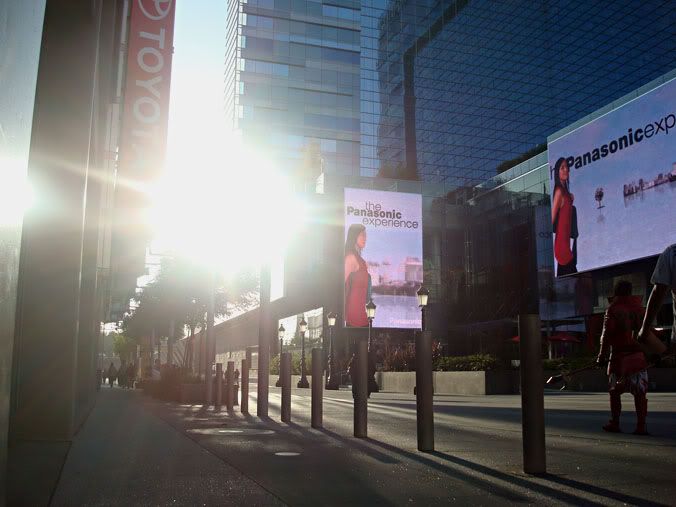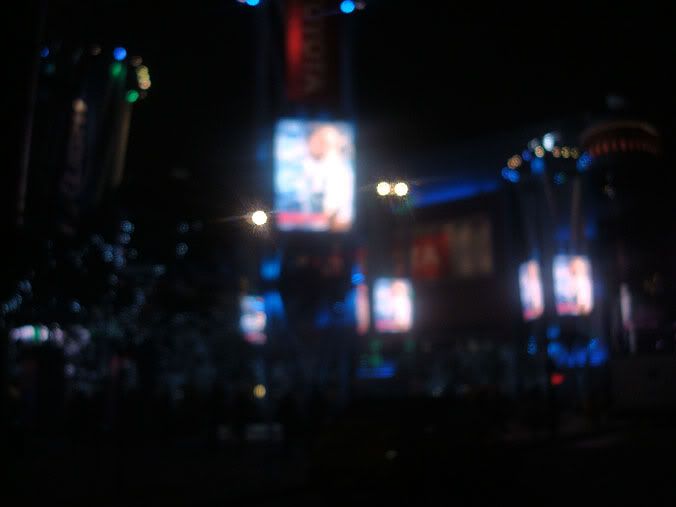 the nokia center is SOOO pretty at night.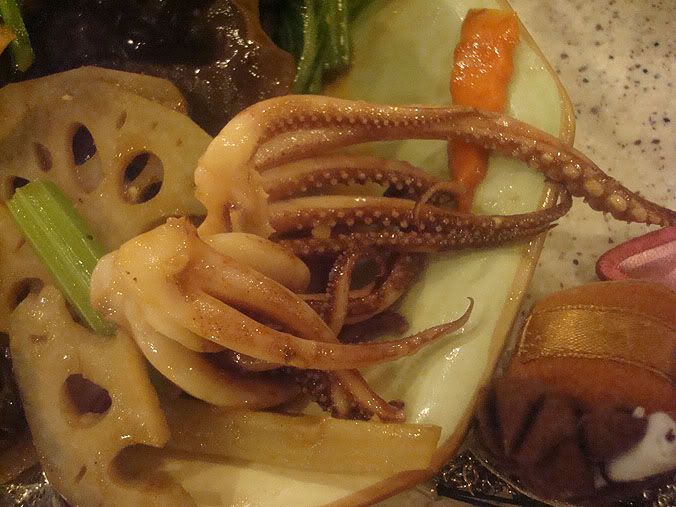 we got bored waiting for our food >_>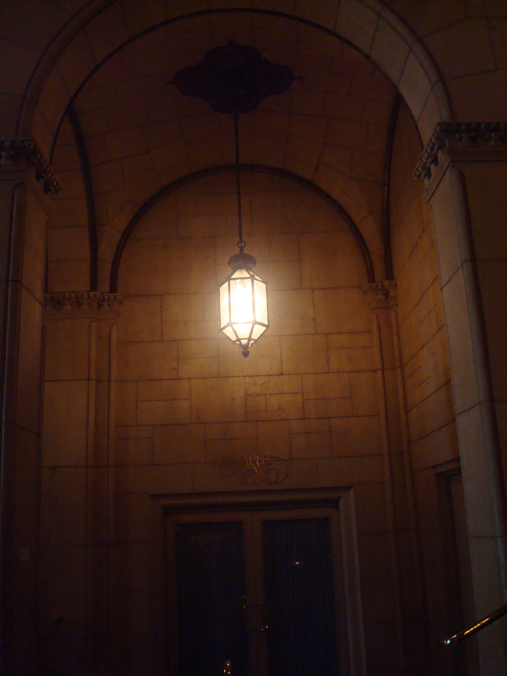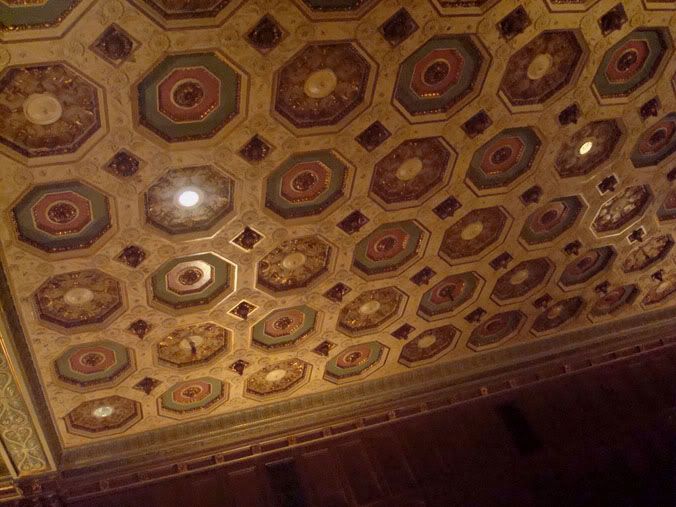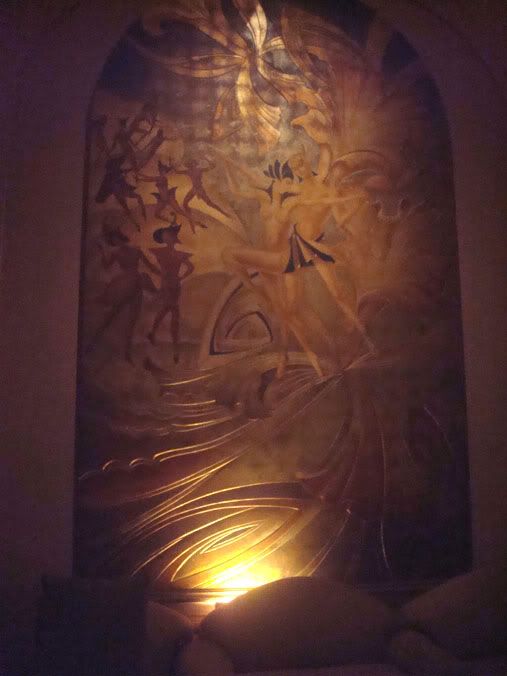 I love this hotel
The last photo looks like the Pale Man from pan's labyrinth *_*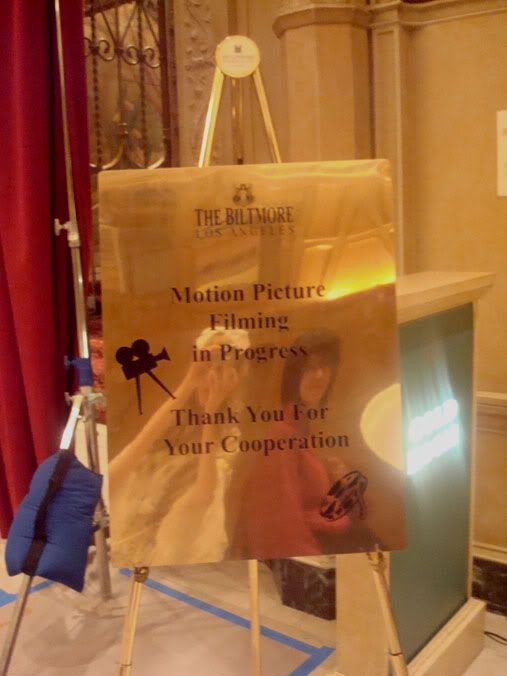 they were filming a movie version of Altas Shrugged. WHY WOULD YOU DO THAT.
But someone asked if I was in the movie XD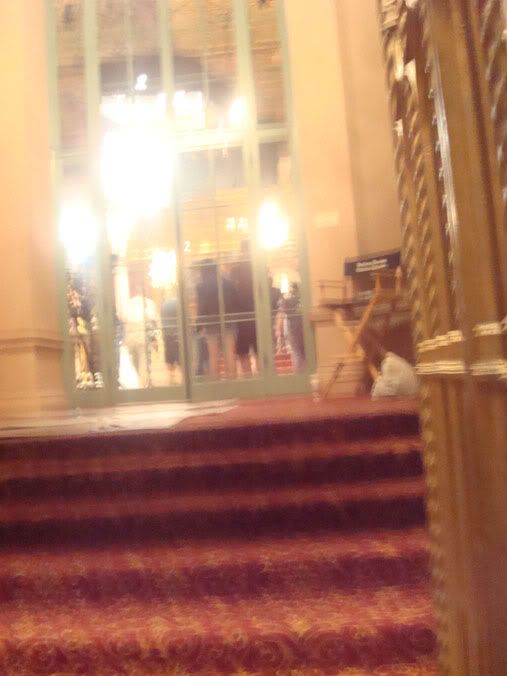 I stuck my camera behind the filming curtain and took this really quick >.>
Day VI: Farewell fake eyelashes
I lost them somewhere between the hotel room and SF ;~~; awww. I liked them.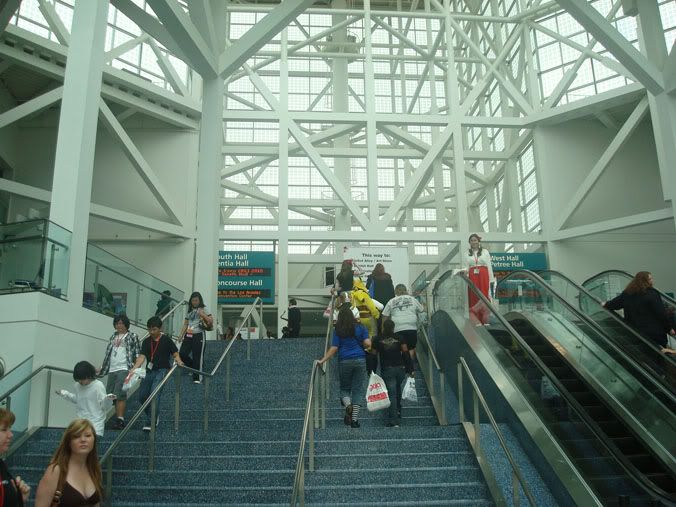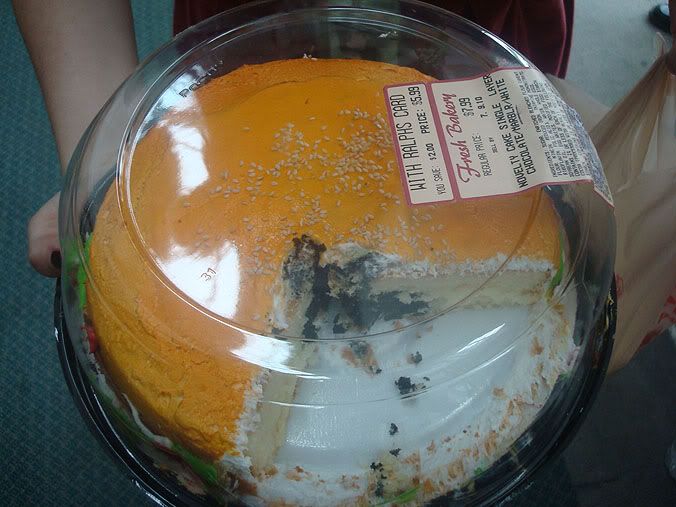 hamburger cake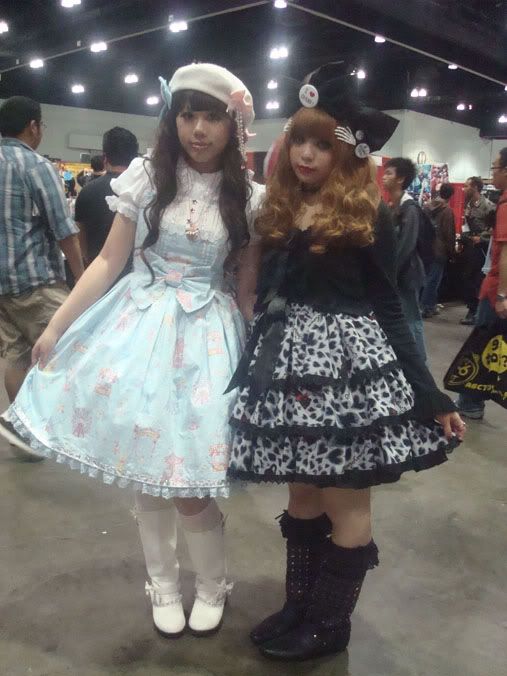 Sandy and Julie :3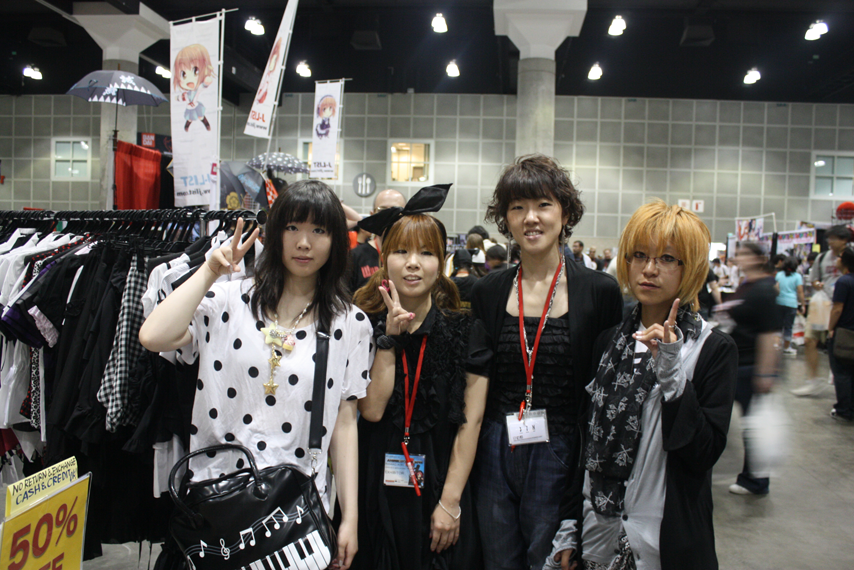 BPN staff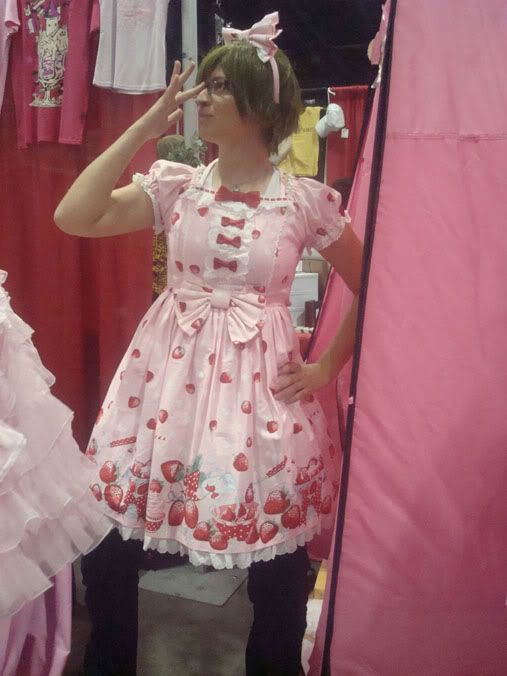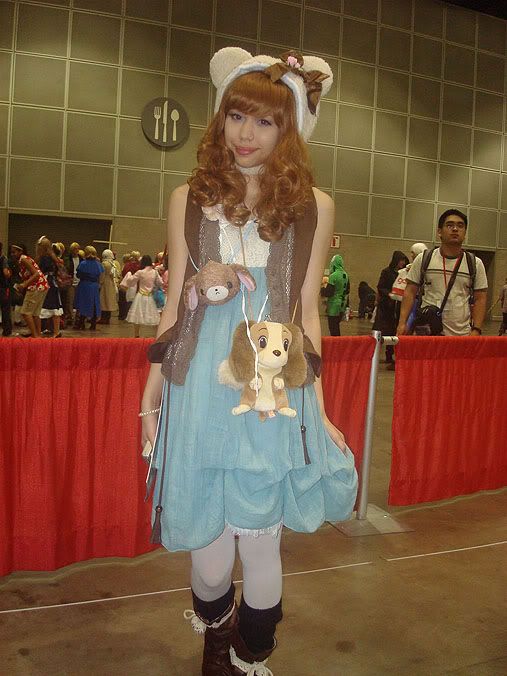 Kammie!!
I always forget to take outfit shots of her aaaaaaaah why ;~;
Then I got on my plane.
EVERYONE SHOULD FLY VIRGIN AIRLINES BECAUSE THEIR PLANES LOOK LIKE THIS: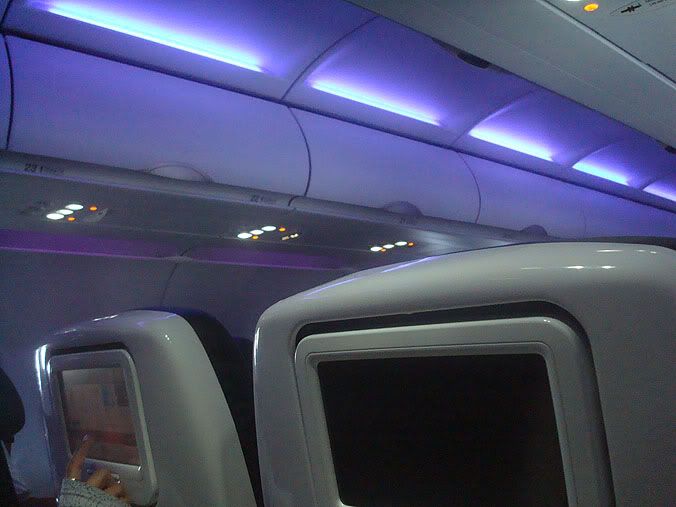 PURPLE LIGHTS. PURPLE GLASS WALLS IN THE PLANE. GOOD AIR CONDITIONING. CALMING MUSIC.
TOUCHSCREENS FOR EVERY SEAT THAT LET YOU WATCH TV AND LISTEN TO MUSIC AND ORDER DRINKS FROM YOUR CHAIRRRR OMG
they even ask if you want slices of lemon or lime in your drinks ;~;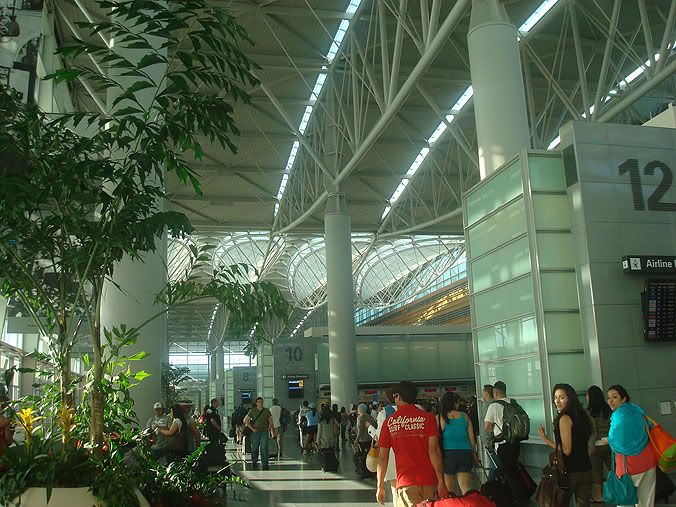 SFO is the prettiest airport <3
Then I went home, took a 3 hour nap, and then went to sleep for 15 hours. :)
HEY GUESS WHAT EVERYONE
THIS POST HAS A PART II
:DDDDDDDDDDDDDDDDDDDDDDDDDDD